The Z-turn Lite is an ultra-cost-effective lite version of MYIR's Z-turn board. It is built around 667MHz Xilinx Zynq-7007S SoC which is among the new Zynq Z-7000S family with a Single-core ARM Cortex-A9 processor and integrated Artix-7 Field Programmable Gate Array (FPGA) logic. The Zynq-7010 Dual-core ARM Cortex-A9 MPCore processor can also be compatible to be used on this board. It is a minimal and compact system of Xilinx Z-7007S or Z-7010 SoC and provides numerous pending configuration of PL resources. It is an excellent reference design and evaluation board for development based on Xilinx Zynq-7000 series SoCs.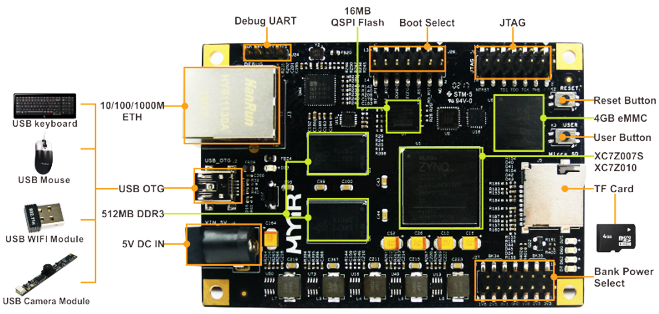 Z-turn Lite Top-view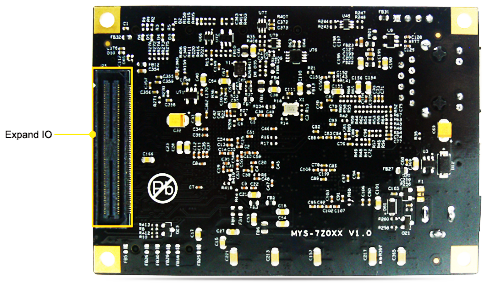 Z-turn Lite Bottom-view

The Z-turn Lite takes full features of the Zynq Z-7007S or Z-7010 all programmable SoC. It is equipped with 512MB DDR3, 4GB eMMC Flash, 16MB QSPI Flash and a set of peripherals including Micro USB OTG, 10/100/1000Mbps Ethernet, TF, JTAG, Debug UART, etc. Additionally, there is one 120 position connector socket on the rear of the board to bring out as many as IO signals for user extensions.
The Z-turn Lite is capable of running Linux operating system and provided with Linux 3.15.0 SDK, the kernel and many drivers are in source code. The Z-turn Lite Kit is delivered with complete accessories including one micro USB cable, one Ethernet cable, one 4GB TF card, one USB-to-UART cable, one 5V power adapter and product disk which enables you to start the development quickly when getting the board out-of-the-box. MYIR also offers optional camera and LCD modules as well as an I/O expansion board Z-turn Lite IO Cape for Z-turn Lite which provides many peripheral signals and interfaces including HDMI, GPIO, LCD, Camera and Pmod interfaces.
Features
Item

Features

SoC

Xilinx XC7Z007S-1CLG400C (Zynq-7007S) or XC7Z010-1CLG400C (Zynq-7010)
- ARM® Cortex™-A9 MPCore processor
Up to 766MHz single-core processor (for XC7Z007S)
766MHz dual-core processor (up to 866MHz, for XC7Z010)
- Integrated Artix-7 class FPGA subsystem

with 23K logic cells, 14,400 LUTs, 66DSP slices (for XC7Z007S)

with 28K logic cells, 17,600 LUTs, 80 DSP slices (for XC7Z010)

- NEON™ & Single / Double Precision Floating Point for each processor

- Supports a Variety of Static and Dynamic Memory Interfaces

Memory

512MB DDR3 SDRAM (2 x 256MB, 32-bit)

Storage

4GB eMMC Flash

16MB QSPI Flash

TF card interface

Communications

1 x 10/100/1000M Ethernet

1 x Micro USB2.0 OTG

Input and Output

1 x 2.54mm pitch 14-pin JTAG interface

1 x 0.5mm pitch 120 Position Connector Socket for Expansion interface

1 x 2.54mm pitch 4-pin Debug UART interface

Others

2 x Buttons (1x Reset, 1 x User)

5 x LEDs

- 1 x User LED

- 1 x FPGA configuration indicator

- 1 x FPGA initialization indicator

- 1 x Power indicator

- 1 x USB overcurrent indicator

Dimensions

91mm x 63mm (10-layer PCB design )

Power supply

DC 5V/2A

Temp.

0~70 Celsius

Power consumption

8W

OS Support

Linux 3.15.0

Target Applications

Evaluation and Prototyping for Zynq-7000 AP SoC
Multi-Axis Motor Control
Machine Vision
Programmable Logic Controller

Industrial Automation

Test & measurement
Package List:
- One Z-turn Lite
MYS-7Z007S-C-S
- One 1.5m cross Ethernet cable
- One 1.2m Micro USB2.0 cable
- One MY-UART012U USB-to-UART cable
- One 4GB TF card
- One 5V/2A Power adapter
- One product disk (including user manual,
schematic in PDF format, datasheets
and software package)