Measuring only 62mm by 38mm, the MYC-IMX28X is a low-cost and high-performance ARM embedded controller board based on NXP i.MX28 family applications processor with ARM926EJ-S core and speeds of up to 454MHz. It integrates 128MB DDR2 SDRAM, 256MB Nand Flash, 128KB SPI Flash as well as one Ethernet PHY on board and has two 1.27mm pitch 80-pin SMT connectors to allow all the I/O signals brought in and out from the CPU Module for further expansion.
The MYC-IMX28X CPU Module is a ready-to-run system-on-module (SoM) which can be embedded into your next design for volume production or prototype. It can also come with MYIR own designed base board along with Linux 2.6.35 software packages, document and other necessary cable accessories to enable rapid development based on this Freescale i.MX28 starter kit MYD-IMX28X.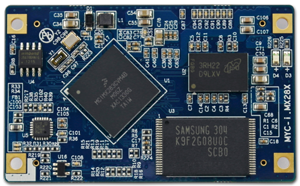 MYC-IMX28X Top-View MYC-IMX28X Bottom-View
MYIR offers the module with NXP i.MX283 or i.MX287 ARM9 CPU by default; user can integrate a different MYC-IMX28X CPU module on the same base board, thus making two variants of i.MX28 evaluation boards.
MYC-IMX283 CPU Module for Freescale i.MX283
MYC-IMX287 CPU Module for Freescale i.MX287
The MYC-IMX283 and MYC-IMX287 boards only have a few differences as described in below table:
| | | |
| --- | --- | --- |
| Model | MYC-IMX283 | MYC-IMX287 |
| Processor | i.MX283 | i.MX287 |
| CAN | 0 | 2 |
| Ethernet | 1 | 2 |
The MYD-IMX28X takes full features of the MYC-IMX28X module and has extended many peripherals and interfaces through headers and connectors including 1 x RS232, 1, Debug, 2 x USB ports, up to 2 x Ethernet, 2 x CAN, 1 x RS485, TF, Audio, LCD, JTAG, etc. It can support -40 to +85 Celsius extended temperature operation and is ideal for smart gateways, human-machine interfaces (HMIs), handheld devices, scanners, portable medical, experimental education and more other industrial applications.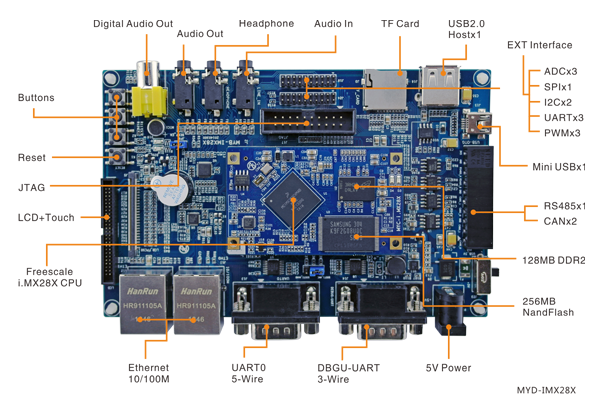 MYD-IMX28X Development Board
Mechanical Parameters
Dimensions: 62mm x 38mm

PCB Layers: 6-layer design

Power supply: +5V

Working temperature: -2

0~70 Celsius (commercial grade) or -40~85 Celsius (industrial grade)
OS Support
Processor
Freescale i.MX283, i.MX287 Applications processor
- Up to 454MHz ARM926EJ-STM core with 16KB/32KB I and D Cache


-

128 kbytes of integrated low-power on-chip SRAM


-

128Kbytes of integrated mask-programmable on-chip ROM


-

1280 bits of on-chip one-time-programmable(OCOTP)ROM


-

16-bit mobile DDR(mDDR)(1.8V),DDR2(1.8V)and LV-DDR2(1.5V),up to 205MHz DDR clock frequency with voltage overdrive


-

Support for up to eight NAND Flash memory devices with up to 20-bit BCH ECC
Memory
128MB DDR2 SDRAM

256MB Nand Flash

128KB SPI Flash
Peripherals and Signals Routed to Pins
On-board Ethernet PHY

One power indicator (Red LED)

One user LED (Blue)

Two 1.27mm pitch 2 x 40-pin SMT male expansion connectors can carry out interfaces below:
- Ethernet (two for i.MX287, one for i.MX283)
- 2 x USB2.0 High-speed ports
- Up to 6 x Serial ports (including one Debug port)
- 1 x I2C
- 2 x SPI
- Up to 8 x ADC (one high-speed ADC, seven low-resolution ADC)
- Up to 5 x PWM
- 1 x SDIO