The MYD-SAMA5D3X Development Board is a fully-featured evaluation board for the ARM Cortex-A5 based Atmel SAMA5D3 series MPUs (Atmel SAMA5D31, SAMA5D33, SAMA5D34, SAMA5D35 and SAMA5D36) which can operate at up to 536MHz (850DMIPS) at under 150mW, delivering a high-performance, low-power platform for cost-sensitive industrial and consumer applications. It is a ready-to-run Linux and Android Cortex-A5 evaluation platform and offered with optional 4.3- and 7-inch LCD modules, USB Camera module and USB WiFi module. It can work in harsh environment supporting -40 to +85 Celsius extended temperature operation for industrial embedded applications.
The MYD-SAMA5D3X ARM board has a commonly-used base board equipped with a different

MYC-SAMA5D3X

CPU module. The

MYC-SAMA5D3X

is an ARM controller board which can be served as the core of your embedded system. It has integrated the Atmel SAMA5D3

ARM Cortex-A5

processor, 512MB DDR2 SDRAM, 256MB Nand Flash, 16MB Nor Flash, 4MB Data Flash and Gigabit Ethernet PHY and uses a DDR2 SO-DIMM 200-pin expansion connector to provides an interface for the base board to carry all the I/O signals to and from the CPU module. A set of peripherals have been brought out through headers and connectors on the MYD-SAMA5D3X base board including 2 x serial ports, 3 x USB2.0 ports, up to 2 x Ethernet, up to 2 x CAN, RS485, Audio, SDIO/SD/MMC, etc. And four of the modules SAMA5D31, SAMA5D33, SAMA5D34 and SAMA5D36 offer HDMI and LCD display support.
MYD-SAMA5D3X Development Board series have following models:
MYD-SAMA5D31 Development Board (based on Atmel SAMA5D31) using MYC-SAMA5D31 as CPU Module
MYD-SAMA5D33 Development Board (based on Atmel SAMA5D33) using MYC-SAMA5D33 as CPU Module
MYD-SAMA5D34 Development Board (based on Atmel SAMA5D34) using MYC-SAMA5D34 as CPU Module
MYD-SAMA5D35 Development Board (based on Atmel SAMA5D35) using MYC-SAMA5D35 as CPU Module
MYD-SAMA5D36 Development Board (based on Atmel SAMA5D36) using MYC-SAMA5D36 as CPU Module


Table 1-1 Comparison for Model Selection
From table 1-1, we can see if you need Gigabit Ethernet, except MYD-SAMA5D31, other four models all can support; if you need two CANs, Gigabit Ethernet but no need LCD, MYD-SAMA5D35 is a good choice; if you want to evaluate the performance of this industrial board, MYD-SAMA5D34 and MYD-SAMA5D36 has the most complete functions.
The MYD-SAMA5D3X Development Kit contains Linux 3.6.9 and android 4.0.4 software packages, necessary cable accessories as well as detailed documents to allow customers to start development soon when getting the goods out of box. It is a solid and flexible evaluation board reference design to enable users to extensively evaluate, prototype and create applications that require audio, mass storage, networking, connectivity and more. Typical applications are such as control panel/HMI, smart grid, medical and handheld terminals, smart watches, outdoor GPS, DECT (digital enhanced cordless telecommunications) phones, etc.
Features
Processor
Atmel SAMA5D31, SAMA5D33, SAMA5D34, SAMA5D35, SAMA5D36


- ARM Cortex-A5 processor, operates at up to 536MHz (850DMIPS)
- 16KB data Cache,16KB instruction Cache


- 32 Kbyte Data Cache, 32 Kbyte Instruction Cache, Virtual Memory System Architecture (VMSA)




- Fully Integrated MMU and Floating Point Unit (VFPv4)




- 128KB of SRAM and 160KB of ROM
Memory and Storage
512MB DDR2 SDRAM

256MB Nand Flash, 4MB Data Flash, 16MB Nor Flash

One MMC/SD card slot

One TF Card slot
Peripheral Interfaces
Serial ports
- 1 x 3-line RS232 Debug serial port (DB-9)
- 1 x 5-line RS232 serial port (UART1, DB-9)
- 1 x RS485 serial port (UART2, 10-pin 3.5mm pitch terminal block connector)

2 x High speed USB HOST

1x Mini USB OTG (be configured as USB device by default)

Ethernet
- ETH1_10/100Mbps for SAMA5D31/35/36,
- ETH0_10/100/1000Mbps for SAMA5D33/34/35/36

2 x CAN interfaces (only for SAMA5D34/35/36)

1 x HDMI interface (driver provided but no source code, SAMA5D35 can not support)

1 x Camera interface (driver has not been provided at present)

1 x Telephone interface (driver has not been provided at present)

Audio input port

Audio output port

1 x LCD interface (Supports 24-bit true color TFT LCD, resolution up to 2048 x 2048 pixels, SAMA5D35 can not support)

1 x 4-wire touch screen interface

1 x 20-pin standard JTAG interface

1 x Reset button, 1 x Wakeup button and 2 x User buttons

2 x Power indicators (Red, one on base board and one on CPU module)

1 x User LED (Blue, on CPU module)

2 x expansion interfaces (J2, J3 and J4) brings out:




- 2 x SPI, 2 x I2C, 1 x PWM, 4 x ADC, 41 x GPIOs (some are multi-plexed)
Mechanical Parameters
Dimensions:




- Base board: 154mm x 110mm


- CPU Module (MYC-SAMA5D3X): 45mm x 67.6mm

PCB layers:




- Base board: 4-layer design




- CPU Module: 8-layer design

Power supply: 5V/2A

Working Temp.: 0~70 Celsius (commercial grade) or -40~85 Celsius (industrial grade)

OS support
Supports running Linux 3.6.9 OS

Supports running Andriod 4.0.4 OS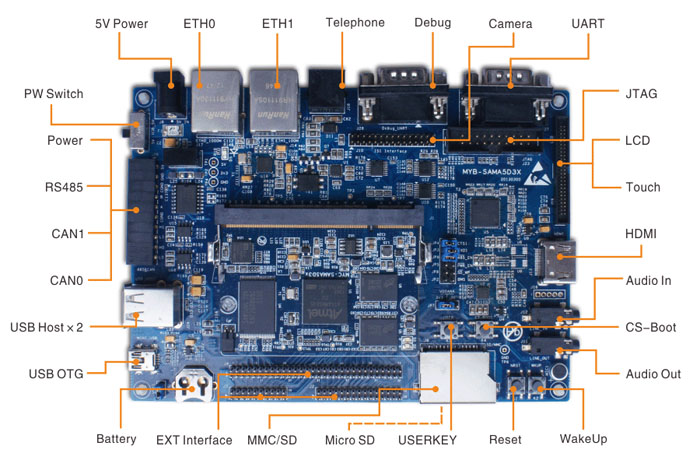 MYD-SAMA5D3X Development Board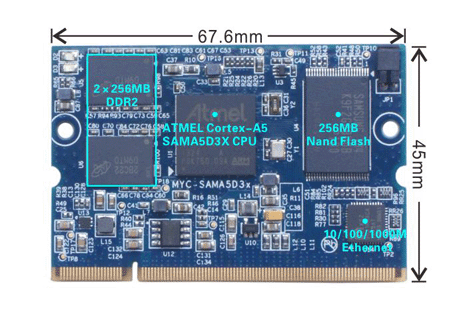 MYC-SAMA5D3X CPU Module Top-view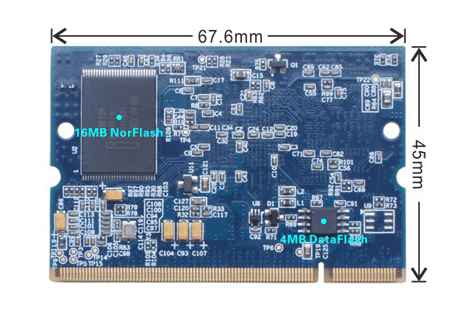 MYC-SAMA5D3X CPU Module Bottom-view
Similar Products