The MYD-JA5D2X Development Board is a complete evaluation platform for Atmel's latest SAMA5D2 (26/27) ARM Cortex-A5 processor which supports multiple memories, including latest-generation technologies such as DDR3, LPDDR3, and QSPI Flash and is integrated with rich peripherals including the LCD & Touch controller, Camera interface, EMAC, USB HSIC and Safety IP, capable of running at up to 500MHz. The MYD-JA5D2X development board is consist of a CPU module MYC-JA5D2X and a base board MYB-JA5D2X connected via one 200-Pin SODIMM interface. It is a complete design reference for embedded developing on the SAMA5D2X processor and designs based on MYC-JA5D2X CPU Module.
The MYC-JA5D2X CPU Module has integrated the core components including the SAMA5D2 processor, 256MB DDR3, 256MB Nand Flash, 4MB Data FLASH, 64KB EEPROM and 100M Ethernet PHY on board. It has been designed to support up to 512MB DDR3 and 1GB Nand Flash (or 16GB eMMC Flash) on customer demand. They can be embedded into your next design directly to speed up your time to market.
MYC-JA5D2X CPU Module
The MYD-JA5D2X development board is built around the MYC-JA5D2X CPU Module and takes out full features of the
Atmel SAMA5D2 processor to extend a rich set of peripherals and interfaces through headers and connectors including serial ports, USB Host and Device ports, CAN port (only for SAMA5D27), Ethernet port, RS485, TF card slot, Audio in/out, LCD, etc.
MYD-JA5D2X Development Board
MYIR deliveries the MYD-JA5D2X Development Board with SAMA5D27 processor by default. The board comes along with Linux 4.1 software packages, necessary cable accessories as well as detailed documents to enable quick start when getting the goods out of box. It can support -40 to +85 Celsius extended temperature operation for industrial embedded applications. It is an excellent EVM (Evaluation Module) and a good reference design for extensively evaluation, fast prototyping and creating applications that require high efficient computing, display, audio, mass storage, networking, connectivity and more.
Features

Mechanical Parameters
Power supply: 5V/2A (Base Board), 3.3V/0.5A (CPU Module)

Working temperature:

-40~85 Celsius (industrial grade)

Dimensions: 110mm*135mm (Base Board), 67.6mm*45mm (CPU Module)

PCB layer: 4-layer (Base Board), 8-layer (CPU Module)
Processor
Atmel SAMA5D27 Processor (SAMA5D26 is compatible)




- ARM Cortex-A5 core running at 500MHz (785DMIPS).




- 128KB of L2 cache for system performance.




- Floating point unit (FPU) for high-precision computing and accelerated data processing.




- 10/100 MAC with IEEE1588




- Two HS High Speed USB ports (configurable as two hosts or one host and one device port)




- One High Speed Inter-Chip Interface (HSIC) port




- One 12-bit image sensor controller with Raw Bayer support




- Graphic LCD controller with overlays for image composition




- Advanced security features to prevent counterfeiting, secure external communication, and authenticate the system




- Market-leading low power consumption

Less than 150mW in active mode at 500MHz with all peripherals activated

Less than 0.5mW in low power mode with SRAM and registers retention

Dual CAN-FD controller
| | | |
| --- | --- | --- |
| Feature | SAMA5D26 | SAMA5D27 |
| USB | 2 (2 Hosts or 1 Host/1 Device) | 3 (2 Hosts/1 HSIC or 1 Host/1 Device/1 HSIC) |
| CAN | 0 | 2 |
| AESB | - | Yes |
Table 1-1 Main Differences between SAMA5D26 and SAMA5D27 Devices
Memory
256MB DDR3 (supports up to 512MB DDR3 SDRAM)

256MB Nand Flash (supports up to 512MB Nand Flash, reserved optional eMMC design)

4MB Data FLASH

64KB EEPROM
Peripherals and Signals Routed to Pins
On-board Ethernet PHY

One power indicator (Red LED)

One user LED (Blue)

SO-DIMM 200-pin connector brings out below peripheral signals:
| | |
| --- | --- |
| Signals | Description |
| Ethernet | 1*10/100M Ethernet |
| GPIO | Up to 97*GPIO |
| USB | 3*USB (1 x Host, 1 x Device, 1 x HSIC, HSIC is only for SAMA5D27) |
| Serial Ports | Up to 10*Serial ports |
| I2C | Up to 7*I2C |
| CAN | Up to 2*CAN (only for SAMA5D27) |
| SPI | Up to 7*SPI |
| QSPI | Up to 2*QSPI |
| ADC | 12*ADC |
| PWM | 4*PWM |
| SDIO | 1*SDIO |
| LCD | 1*24-bit LCD Signal |
| SSC | Up to 2*SSC, compatible with I2S |
| Camera | 1*12-bit Camera Interface |
| SMC | Supports parallel external memory interface |
Table 1-2 Extension signals on SO-DIMM 200-pin connector
Note: Some signals are reused and listed with the maximum numbers. For detailed configuration, please refer to the document of Pin-out Description.
http://www.myirtech.com/download/SAMA5D2/MYC-JA5D2X_Pinouts.pdf
The MYD-JA5D27 Base Board (MYB-JA5D2X)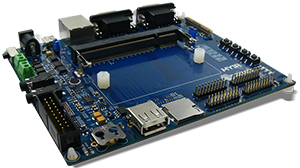 MYD-JA5D2X Base Board (MYB-JA5D2X)
Serial ports
- 2 x RS232


- 1 x RS485

USB




- 1 x USB2.0 Host ports




- 1 x Mini USB2.0 Device port




- 1 x USB HSIC (only for SAMA5D27, via Extension Headers)

1 x 10/100Mbps Ethernet interfaces

1 x CAN interface (only for SAMA5D27)

1 x TF card slot

1 x 18-bit LCD interface

1 x 4-wire resistive touch screen interface

1 x 8-bit Camera interface (J23, 2.0mm pitch 20-pin connectors)

1 x Mic in port

1 x Line in port

1 x Stereo Audio output port (Headphone)

1 x JTAG interface (2.54mm pitch, 20-pin connector, J16)

1 x battery backed RTC socket

4 x Buttons (Boot SEL, Reset, Wake up, User)

2 x 2.0mm pitch 20-pin Extension Headers (J7 & J21)




- 2 x SPI, 2 x UART, 1 x TWI, 1 x QSPI (some signals are reused)

1 x 2.0mm pitch 20-pin Secure IO Header (J8)

1 x FMC interface (DNP by default, on the bottom of the board)

3 x LEDs (1 x Power, 2 x User)