Measuring only 67.6mm by 45mm, the tiny MYC-SAMA5D3X series CPU Modules are designed especially to serve as the heart of your next embedded design. It is based on Atmel SAMA5D3 ARM Cortex-A5 series eMPUs which can operate at up to 536MHz. The module integrates 512MB DDR2 SDRAM, 256MB Nand Flash, 16MB Nor Flash, 4MB Data Flash and Gigabit Ethernet PHY on board and is equipped with one DDR2 SO-DIMM 200-pin connector to bring out all the I/O signals from the CPU Module.
The MYC-SAMA5D3X series CPU Modules are allow four selections of Atmel SAMA5D31, SAMA5D33, SAMA5D34, SAMA5D35 and SAMA5D36 processors. All five modules are sharing the same circuit design with minor configuration settings. MYIR provides comprehensive documents and ready-to-run software packages for running Linux 3.6.9 and Android 4.0.4 operating systems on the MYC-SAMA5D3X series modules.
MYC-SAMA5D31 CPU Module for Atmel SAMA5D31
MYC-SAMA5D33 CPU Module for Atmel SAMA5D33
MYC-SAMA5D34 CPU Module for Atmel SAMA5D34
MYC-SAMA5D35 CPU Module for Atmel SAMA5D35
MYC-SAMA5D36 CPU Module for Atmel SAMA5D36
We can make a comparison for some main functions from below table:
We can see if you need Gigabit Ethernet, except MYC-SAMA5D31, other four models all can support; if you need two CANs, Gigabit Ethernet but no need LCD, MYC-SAMA5D35 is a good choice; if you want to expose most features of this module, MYC-SAMA5D34 and MYC-SAMA5D36 has the most complete functions.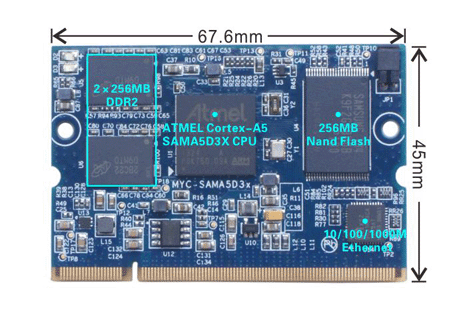 MYC-SAMA5D3X CPU Module Top-view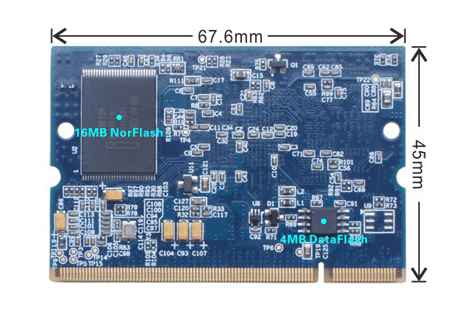 MYC-SAMA5D3X CPU Module Bottom-view
Customers can design their own base board using MYIR's MYC-SAMA5D3X CPU modules as the core components to extend peripheral functions by headers to connectors on their base boards. MYIR also designed one base board to carry the controller board which is called MYD-SAMA5D3X Development Board and has provided an excellent platform for customers' evaluation and prototype.
MYD-SAMA5D3X Development Board
Product Features
Dimensions: 45mm x 67.6 mm

PCB layers: 8-layer design

Working Temp.: 0~70 Celsius (commercial level) or -40~85 Celsius (industrial level)

Processor: Atmel SAMA5D31, SAMA5D33, SAMA5D34, SAMA5D35, SAMA5D36
- ARM® Cortex™-A5 processor, operates at up to 536MHz (850DMIPS)
- 16KB data Cache,16KB instruction Cache
- 32 Kbyte Data Cache, 32 Kbyte Instruction Cache, Virtual Memory System Architecture (VMSA)
- Fully Integrated MMU and Floating Point Unit (VFPv4)


- 128KB of SRAM and 160KB of ROM

512MB DD2 SDRAM (256MB is optional)

256MB Nand Flash

4MB Data Flash

16MB Nor Flash

One Power indicator (Red)

One user LED (Blue)

1.8v DDR2 SO-DIMM 200-pin connector for bringing out signals

Linux 3.6.9 and Android 4.0.4 software package
Similar Products