Measuring only 67.6mm by 35mm, MYIR's MYC-SAM9X5 series CPU Modules are highly-integrated low-cost controller boards for industrial and embedded applications. The modules are based on 400MHz Atmel AT91SAM9x5 series processors: SAM9G15, SAM9G25, SAM9G35, SAM9X25 and SAM9X35. The module has 128MB DDR2 SDRAM, 256MB Nand Flash, 4MB Data Flash, 64KB EEPROM and Ethernet PHY on board and is equipped with one DDR2 SO-DIMM 200-pin connector to bring out all the I/O signals from the CPU Module. It is a Linux and Android ready-to-run module and supports -40 to +85 Celsius Extended Temperature Operation for Industrial Applications.
The MYC-SAM9X5 CPU Modules have five models for selections:

MYC-SAM9G15 CPU Module for Atmel AT91SAM9G15
MYC-SAM9G25 CPU Module for Atmel AT91SAM9G25
MYC-SAM9G35 CPU Module for Atmel AT91SAM9G35
MYC-SAM9X25 CPU Module for Atmel AT91SAM9X25
MYC-SAM9X35 CPU Module for Atmel AT91SAM9X35
They are sharing the same circuit design with only minor configuration settings.

They are compatible with Atmel's official SAM9X5-EK and can work on SAM9X5-EK's base board directly

.

We can make a comparison for some main functions below:
We can see from above table if you need Ethernet, except MYC-SAM9G15, other four models all can support; if you need two CANs, two Ethernet but no need LCD, the MYC-SAM9X25 is a good choice; if you want to expose most features of this industrial module, the MYC-SAM9X35 has the most complete functions.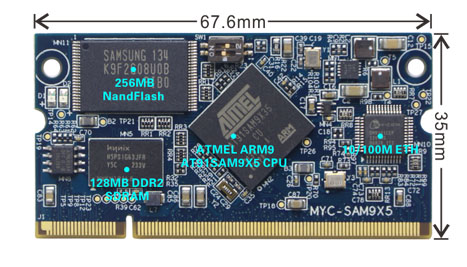 MYC-SAM9X5 CPU Module Top-view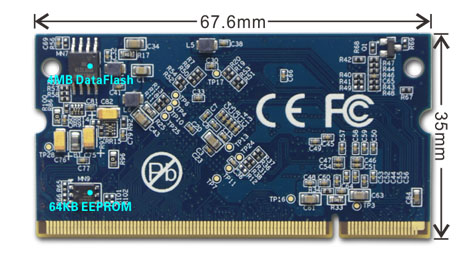 MYC-SAM9X5 CPU Module Bottom-View
The MYC-SAM9X5 CPU Modules can run Linux 2.6.39 and android 2.3.5 operating systems. MYIR also offers plenty of Keil MDK-ARM sample codes to enable your debugging capabilities. The modules come along with complete software packages as well as document to support customers' development.
MYIR has designed a commonly-used base board for the MYC-SAM9X5 series CPU Modules which has extended most peripheral functions of the CPU by headers and connectors. The development board is called MYD-SAM9X5 which is an ideal platform for user evaluation and prototype. User can also create their own applications on this board and use it directly for their final products.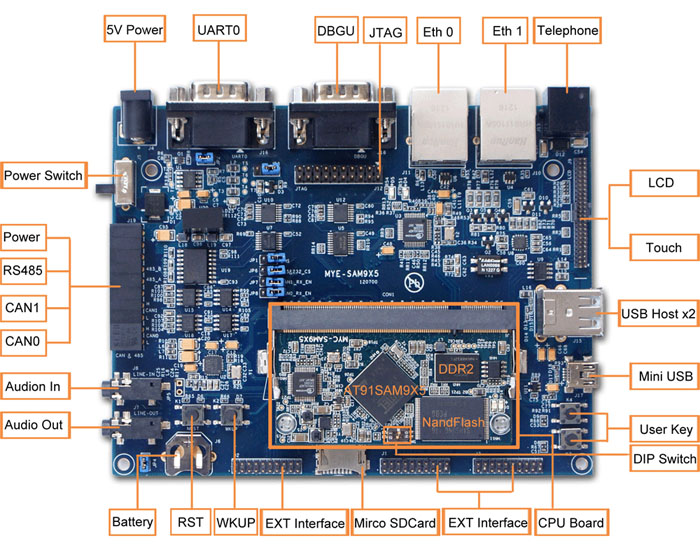 MYD-SAM9X5 Development Board

Product Features

Dimensions: 67.6mm x 35mm

PCB layers:

8-layer design

Working temperature:

0~70 Celsius or -40~85

Celsius


Note: Our products are delivered of commercial grade (0~70 Celsius) by default. Anyhow the MYC-SAM9X5 board base on Atmel ARM9 processor can work for industrial applications working in harsh environment with working temperature ranging from -40 Celsius to 85 Celsius. Please contact us for price and availability of products of industrial grade if you needed.
Processor: Atmel SAM9G15, SAM9G25, SAM9G35, SAM9X25, SAM9X35


- 400MHz

ARM926-based embedded microprocessor unit
- 16KB data Cache,16KB instruction Cache, MMU


- On-chip: 32KB SRAM, 64KB ROM

128MB DDR2 SDRAM

256MB NandFlash

4MB DataFlash

64KB EEPROM

One 10/100Mbps Ethernet PHY

One Power indicator (Red)

One user LED (Blue)

1.8v DDR2 SO-DIMM 200-pin connector for bringing out signals

Linux 2.6.39 and Android 2.3.5 software package

Complete Keil's MDK-ARM sample codes