The MCC-AM335X-Y CPU Module integrates all the core components and is well designed to be the heart of your embedded system. It has the AM335x processor, 256MB DDR3 SDRAM, 256MB Nand Flash, 32Kb EEPROM, Gigabit Ethernet PHY chip on board and features excellent power management circuit design using TI's TPS65217C solution. The module can be soldered to a specific-designed base board through its 1.27mm pitch 146-pin stamp hole expansion interface to meet customers' peripherals, I/O and dimensional requirement.
MCC-AM335X-Y CPU Module
The TI AM335x consists of 6 different devices with various options including speed grades, packages, graphics and peripherals. The image below gives a brief overview of options. The MCC-AM335X-Y CPU Module series have six models with different AM335x processors.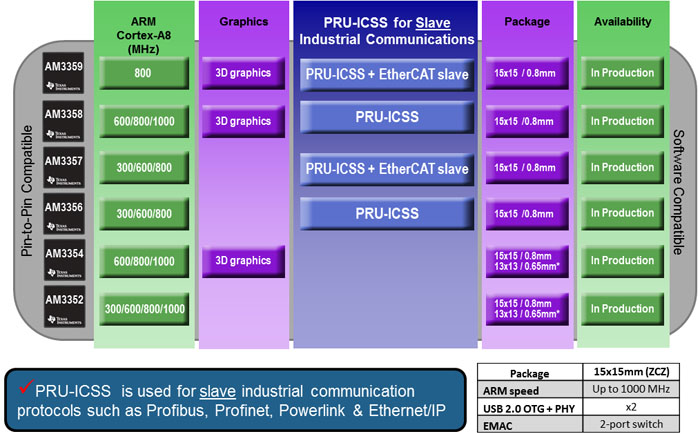 MYIR offers a development board MYD-AM335X-Y for rapid evaluation of the MCC-AM335X-Y CPU module. It uses the MCC-AM335X-Y CPU module as core controller board and has extended many peripheral interfaces like serial ports, USB Host port, OTG port, dual Gigabit Ethernet ports, WiFi, CAN, RS485, Micro SD and LCD through headers and connectors on the base board. The board is delivered along with some necessary cable accessories and product disk to let you quickly start your development when getting the goods out-of-the-box.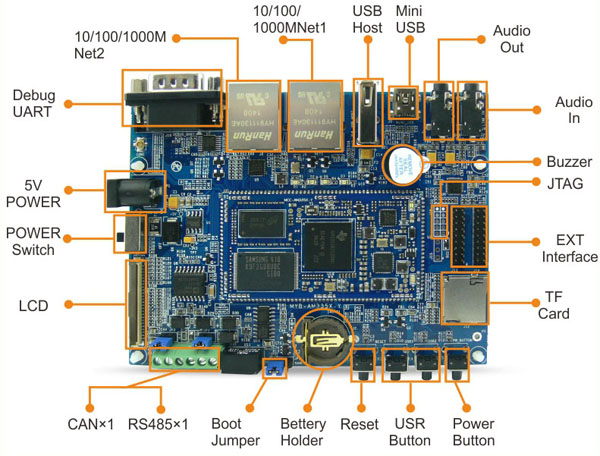 MYD-AM335X-Y Development Board (on-board WiFi module on the rear of the board)
Features
Mechanical Parameters
Dimensions: 65mm x 35mm

PCB Layers: 10-layer design

Power supply: +5V/0.8A

Working temperature: 0~70 Celsius (commercial grade) or -40~85 Celsius (industrial grade)
Processor
TI AM3352, AM3354, AM3356, AM3357, AM3358, AM3359 (15x15 mm, 0.8-mm ball pitch, ZCZ package)
- Up to 1GHz ARM Cortex-A8 32-bit RISC MPU
- NEON™ SIMD Coprocessor
- 32KB/32KB of L1 Instruction/Data Cache with Single-Error Detection (parity)
- 256KB of L2 Cache with Error Correcting Code (ECC)
- SGX530 Graphics Engine
- Programmable Real-Time Unit Subsystem
Memory
256MB DDR3 SDRAM (128MB/512MB compatible)

256MB Nand Flash (128MB/512MB compatible)

32Kb EEPROM
Peripherals and Signals Routed to Pins
On-board Gigabit Ethernet PHY

External Watchdog circuit

Power Management IC (TPS65217C)

One power indicator (Red LED)

One user LED (Green)

1.27mm pitch 146-pin stamp hole interface can carry out peripherals below:
- 2 x USB OTG 2.0
- Up to 6 x Serial ports
- 2 x Gigabit Ethernet
- 2 x I2C
- 1 x SPI
- 8 x ADC
- 2 x PWM


- 2 x SDIO
OS